Upper Elementary students love Augmented Reality too. Some of my favorite AR apps for the older students tie-in amazingly with the curriculum.
Chromville (Free and $$)
Chromville, Barcy, and Chromeville Science engages students by bringing their coloring pages t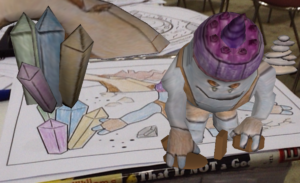 o life.  The original Chromville allows students to color different characters that animate using AR.  Each character has their own storyline in which students can create narratives, write detailed stories, and focus on visual and character development.
Barcy is similar to Chromville where students color pages and they a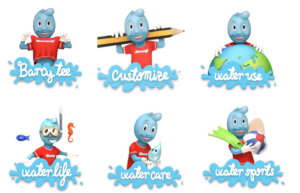 nimate on the screen.  This time students interact with the AR and their decisions change the animations. It focuses on different process highlighted on the left.  My students love water life in which they meet different animals under the sea.
*Chromeville Science is the last app by  Chromville and the one that directly connects AR and teaching standards.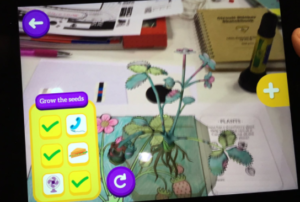 The different content areas are the Human Body, Living Beings, Laboratory, and Living Science.  When this first started they only had the first two showing this is a growing area for the company.  Each content area has multiple coloring pages, triggers, to color and interact with.  While interacting with the AR students create about cycles, identify objects, and label content.
*Directly from the Chromville website: "The School License is a special Chromville World pack for teachers and schools. It costs the same as an Individual School but allows using the Chromville Science app on 25 devices at a time. Teachers and schools automatically get a School License purchasing the Chromville World pack."
All claims to help with the development of Howard Gardner's 8 multiple Intelligences through its different choices.
Fetch! Lunch Rush (Free)
is an interactive Math game.  Students must keep track of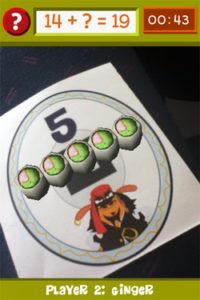 how many pieces of sushi each crew member on a movie set wants.  Using the printed cards they will use mental math and visual cues on the screen, students collect lunch orders. This can be played individually or multi-player. (image from PBSKids)
Cyberchase Shape Quest (Free)
After downloading the gameboard and pieces students see the game come to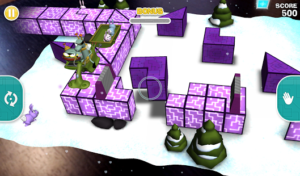 life on their device.  The have to collect different things and find, rotate, and place different shapes to complete a path/puzzle. This app is really fun and great to practice geometry skills as well as problem-solving and spatial reasoning. (image from Google Play Store)
Check out Post 1: