Read & Write is my current favorite extension for Google Chrome.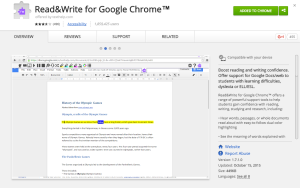 Read & Write describes itself as a tool that will help students build confidence in reading and writing.  I am here to validate that claim.
Each student has their purple puzzle piece icon at the end of the URL bar. The utility bar pops-up once they click the piece. It is extremely simple to use and so many benefits.

Our most used feature of Read & Write is the text to voice feature. Students enjoy having text from any website read aloud. Teachers like that students can hear information as they read it. Students can choose to have a whole webpage read aloud or highlight specific text.  They can easily start, pause, and stop the reading. If you keep the Hover Speech button selected, it will read anything they students click on. This is great for the younger students!
Along with the free extension Readability, mentioned in my previous post, students can get rid of all the website extras and hear websites read to them with 2 clicks of the mouse.
While listening to text, students can stop and have words defined for them. Words are defined with a written and picture dictionary depending on the button they choose from the toolbar.
Our ESL students can hear text translated into their home language. (There are limited language choices.)
Also important to the teachers is having students use the voice to text feature.  Students who struggle with writing can speak anything they wish typed. It is smooth unlike many other programs with similar features.
The older students are also using the highlighting features to identify important text. It has helped greatly with identifying text to quote later in responses.
If I worked with upper-middle and high school students I would also use the Fact Finder button. Highlight text, click the Fact Finder button, and Read & Write will Google the words for more information.
The district I work in has purchased a license for every student and staff member.  Originally we looked into purchasing for special-education students but after seeing the benefits it made sense to get it for everyone. I AM THRILLED. So are the students.