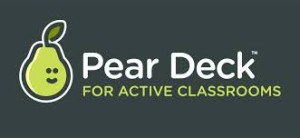 A few weeks before PARCC PBA I introduced the 4th graders and 4th grade teachers to Pear Deck.  It was not only a great way to practice our technology skills for the upcoming online assessments but an excellent pre-test math review.
Pear Deck is a simple yet engaging presentation tool.  Teachers create a presentation to show their class and the slides appear on the students' devices as well.  Pear Deck is Google based and works on all devices.  Throughout the presentation teachers can add questions that the students must answer.
Questions can me multiple choice, short answer text, or short answer number.  With a premium account questions choices also include a draggable slide and freehand drawing.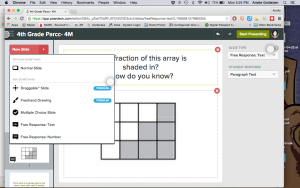 I enjoy the freehand drawing as students are able to circle multiple objects, shade in their a part of the response, or create a unique answer. It allows for creative thinking and addressing of multiple types of learners.
There is a built-in Google search to allow teachers to add images and vides which make the presentation and questions more engaging.
Answers are collected and the teacher has the choice to share with the class or keep them private.
If you are a PowerPoint person you can upload a presentation but, be aware, slides import as images and cannot be edited once imported.
The presentation style assessment allowed for discussion throughout my classroom.  While it does not have to be that way, it was an amazing way review and collect student responses to see who needed more practice and each skill.
While I'm not sure I can rave as much as some of the teachers on their website, I am quite happy with the tool and will use it more. As I hope my classroom teachers do too.