This year I started my new job in an outdated high school library. The collection of almost 14,000 items had an average age of 1997. (This is after the previous Library Media Specialist weeded 10,000 books one year prior). The room itself is full of traditional wooden tables and chairs, and book stacks that took up a large corner of the already odd shaped room.
A big part of my job in year one was to modernize, update, and create a three-year remodel plan. None of the furniture was staying; we need new carpet and new wall colors. The job is a massive undertaking, so I hired a designer to design the space while I got to work in the space
Step 1: Weed
Is it better to have old books or no books? My opinion doesn't matter here but because the truth is, old books foster complacency.
Keeping books on the shelves just to have books shows you do not need ones.
Old books do more harm than they do good by providing false information.
But, what might be most important, students don't want to read old books; old books do not foster a love of reading.
Using our library management system, I ran reports for circulation stats and age of books to help me select which books to weed. I decided to use the list of anything ten years or older, even less in the technology sections, but more lenient with literature and history. Luckily, for this reason, only, this library still used library cards in the back of books so it was easy to check circulation of each book while I weeded it.
The collection of almost 14,000 went to 6,611.  The average age rose nine years, from 1997 to 2006.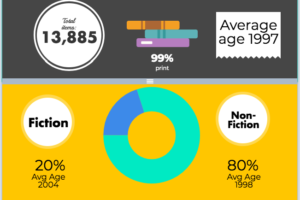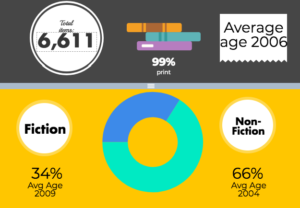 We offered books to staff and students. Books were put on a listserv and thanks to JerseyCat transportation given to other public and school libraries free of charge. We even had a fantastic opportunity and donated over 1,500 books to libraries that were built in Malawi through Malawi Visions.
Step 2: Remove the stacks
Removing some of the big pieces of furniture that were now empty opened the space up big time. We took some of the existing furniture and moved it around to resemble what the new space will look like and boy what a difference.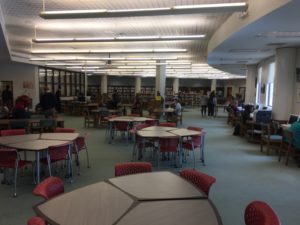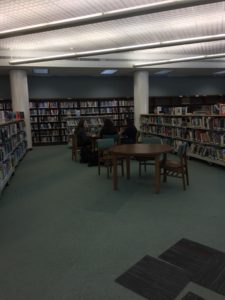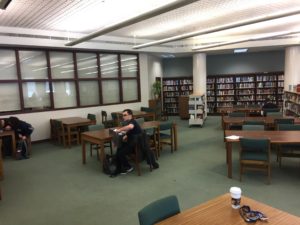 Stay tuned, part 2, how we worked with the designer and listened to the students about planning the space.