The new school year is underway, and Google has added two menus to their Classroom interface that make teaching online or hybrid just a bit easier. 
First on the Classroom homepage is a menu with "To-Do," "To Review," and "Calendar."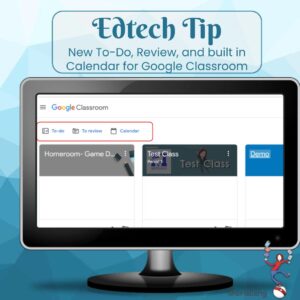 To-Do– students can easily view work for assignments in all of their classes
To Review– teachers can easily view assignments that have not been graded or returned yet in all of their classes
Calendar– not built into Google Classroom, this calendar shows due dates for all classes
Each one of these features shows teachers and students all courses but can be filtered to view one class at a time.
The other menu, found in the Classwork tab, gives teachers and students quick access to their Meet (if enabled) and the external Calendar and Drive folder.