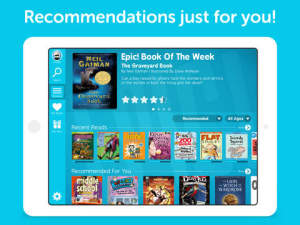 Epic! is an app for the iPad that offers thousands of great books for students to read. The books' titles are recognizable and interesting. Books range from toddler picture books to books for students ages 10-12. There is a mix of fiction and non-fiction. Titles are added weekly to help keep students interests.
Books are streamed so you must have an internet connection. The benefit, no need to wait for a download. You can choose to add a book to your library and it will download.
Features:


Read to me– Some of the books will read to the students! This is a great feature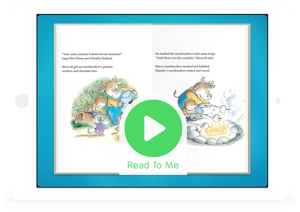 for struggling readers to read along while the Epic! app reads the book to them. There is a filter in the app that will show only the books that have the Read to Me feature.
Profiles– Each student can have a customized profile. As he or she reads they unlock cool badges and rewards to keep them motivated. These rewards allow them to customize an avatar and the way the app looks ie: color schemes for the menu page.
Badges– These are earned for a variety of reasons. It is not just about the number of minutes a student has read or the amount of books but they earn badges based on genre reading and more.
Reading Logs– The log tracks the books that have been read, the percentage of each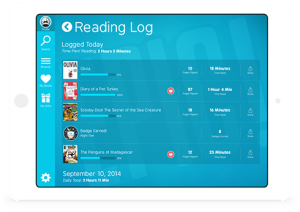 book that has been read, the amount of time it took to read that book, and so on. It is a great way to keep track of student progress.
Filter– The filter helps students search the large library of books. Students can select a topic they are interested in or select their age range. They can view what is popular on Epic! and even keep track of their favorites.
Epic! for Educators is a free version of the app. Sign-up here: https://www.getepic.com/educators/
It will provide letters or postcards that can be sent home to families to inform them of this great app. Families will have a 60-day free trial and then it becomes $4.99 a month. Teachers can sell that as less than the cost of a new book a month.