All school year I have been emailing my colleagues about the website Newsela.com. When I was introduced to at the beginning of the school I instantly saw how beneficial this tool could be.
Benefits:
Students reading for comprehension online
Students can annotate
Students reading current events
A class is able to read the same article on different Lexile levels
Instant feedback quiz after reading
Teachers can grade and comment on students' open-ended responses
No need for emails to create accounts
Reports come back to the teacher
Class averages
Students can be assigned work
If you are a GAFE school teachers and students can sign in through Google
My colleagues read my emails and listened to me rave about this website but I never saw or heard of anyone using it.  Finally I went and created classes for all third and fourth graders. Students read and article and took the quiz in the computer lab.  Teachers were thrilled.  7/8 teachers admitted they would now use Newsela in their classrooms.  A great of example of how we learn by doing.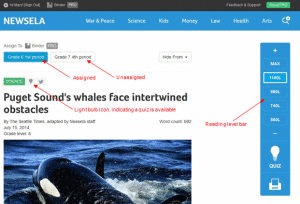 What I have learned about Newsela since using it:
They have great quick-start guides
Students can be assigned to retake a quiz
Teachers can sign up for daily "articles of the day" emails (These are great!)
Pro version- Teachers can download quiz data (put it into Excel/Sheets)
Pro version- allows you the teacher to see the students' annotations and vice-versa
Pro version- Teachers can track student and class progress against Common Core standards
Pro version- Teachers can sign up for weekly Insights emails
The problem I've come across is that students can access all articles.  Currently I work with K-4 and some of the articles, specifically in the "War & Peace" section are not appropriate.
Another problem, when I first when to demonstrate how to take a quiz, as a teacher it shows the answers.  (The first time doesn't count, right?)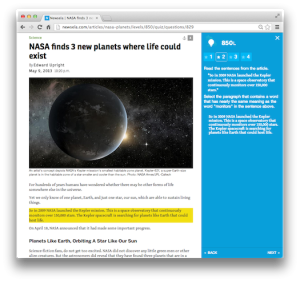 update March 13: It looks like I wrote about Newsela this time last year too. http://technicallylibrarian.blogspot.com/2014/03/newesla-techie-tuesday-link-up.html